MAXON sponsors the category 'Best Motion Design' once more!
After last year's great success, the animago AWARD will once more be awarded in the category "Best Motion Design" . Just like last year, MAXON graciously decided to sponsor this category in 2017.
"A great number of renowned motion designers swear by Cinema 4D and its MoGraph toolset, which is specially designed to meet the needs of motion graphics professionals. We at MAXON are very excited to have the honor of sponsoring this category for a second time and are looking forward to seeing many outstanding projects," says MAXON Computer's Marketing Director Marc Zinnecker.
We are thrilled to welcome MAXON as an animago sponsor partner once more. The winner of the "Best Motion Design" category will be announced as usual during the prestigious animago award show on 07 September 2017 at the animago AWARD & CONFERENCE.
If you want the chance to meet MAXON before September, pay them a visit at this year's FMX from 02 to 05 May!
About MAXON
MAXON Computer GmbH is a developer for 3D graphics software, offering professional 3D modeling, painting, animation, and rendering solutions.
MAXON's product line is centered around its core applications Cinema 4D, a leading animation package for media production, and BodyPaint 3D, its pioneering 3D painting package. These award-winning applications are renowned for their ease of use, quick workflow, fast rendering and unmatched integration into leading compositing applications, such as Adobe After Effects and Apple Final Cut Pro. Additional exchange options for leading VFX tools enable artists to integrate Cinema 4D into almost every existing production scenario and benefit from its powerful tool set.
Cinema 4D and BodyPaint 3D have been used extensively in the advertising, film, television, science, architecture, design and other industries.
MAXON Computer was founded in 1986, and has offices in Germany, USA, United Kingdom, Canada, France and Japan. MAXON products are sold in over 70 countries worldwide.
For additional information on MAXON visit www.maxon.net
MAXON Computer GmbH
Max-Planck-Str. 20
D-61381 Friedrichsdorf
Germany
Phone: +49 (0) 6172 / 59 06 0
Fax: +49 (0) 6172 / 59 06 30
Email: info@maxon.de
Last Year's Winner "Urban Surfaces" Making-Of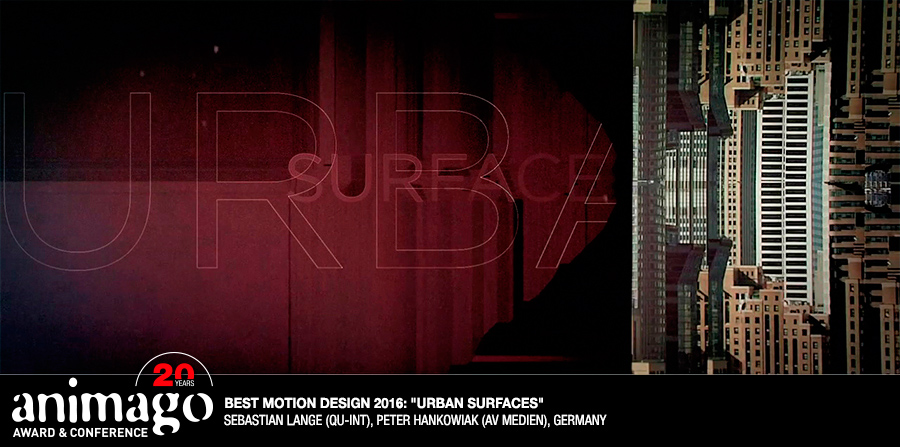 Last year, the project "Urban Surfaces" won the animago trophy in the category "Best Motion Design". Check out its Making-Of here!