Quantum Sponsors "Best Visualization" Category
Champagne bottles will be popping on the evening of 7th September 2017 at Munich's Gasteig Centre. That's when we'll be joining with our sponsor, Quantum, to announce the winner of the animago AWARD in the "Best Visualization" category.
"Antlion Audio/ModMic 5", "Huawei Watch" or "Nanos"? Which one of the three nominated visualizations will win this year's animago AWARD? At the ceremony in Munich's Gasteig Centre on the evening of 7th September 2017, we'll finally find out which animago submission was able to win over the jury this year. We're grateful for Quantum's tremendous support in this category and our thanks go out to the entire Quantum team!
About our Sponsor Quantum
Quantum's workflow storage solutions give you the performance and reliability you need to meet extreme deadlines in content production and delivery. Benefit from efficient ingest processes, joint editing, output and usage of content in digital libraries, as well as high-performance automation for the management of your content over the course of its entire lifecycle. Quantum solutions enable your creative professionals to concentrate on the development of their ideas and allow them to contribute to the success of your production independently of application, platform and location.
For further information, visit www.quantum.com.
Bye-bye self-help books! – The Making of Last Year's Winner "A Guide to Happy"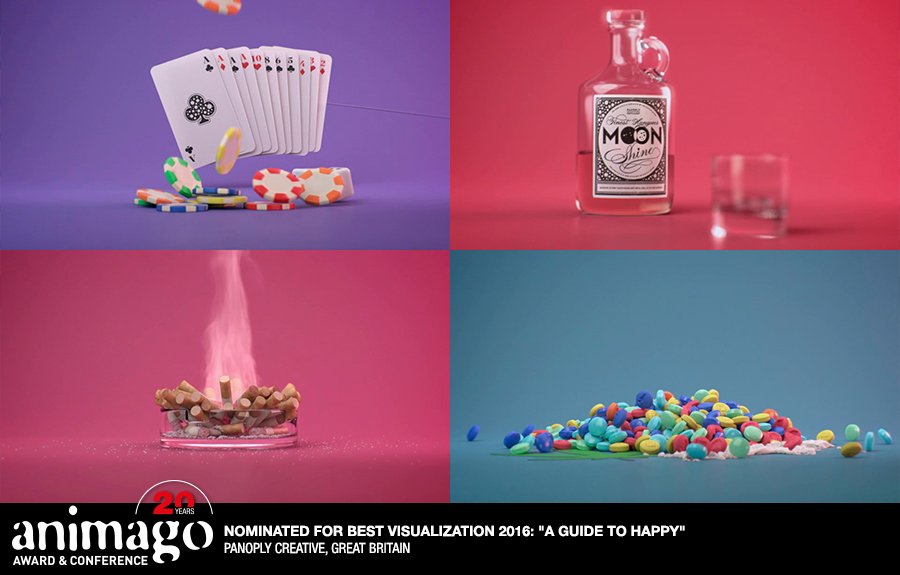 In only two minutes, Renaud Futterer, Mark Lindner and Will Jarvis from Great Britain's Panoply Studio give us that "Guide to Happy" we've always wanted. And the recipe works! Indeed, the Panoply team was very happy when they won the animago award for Best Visualization at the 2016 ceremony. Read here about the making of last year's winner. After that, you'll never need another self-help book in your life.