Big Willys suffering
During the animago AWARD jury session the fictional advertorial clip "Lube-X" sure forced a lot of laughter. The project has been nominated in the category for "Best Advertising Production" mostly for its unique idea. We talked to Noah Demirci about this unusual project which the 3D artist created all on his own for his bachelor thesis at the Hochschule Luzern.
To make something provocative that sticks in people´s minds – That was Demircis goal for his final project. Of course, sexual content is predestinated for this, but these kinds of advertisements usually get censored or are only streamed in late night hours. So a difficult task came up for Noah, to create a commercial with a story that is fun to watch superficially and harmless for kids, but with its obnoxious message only obvious for adults. The idea of big Willy who is confronted with a restricting situation in his daily life, but helps himself with lubricating cream as body cream out of it came up in Noah´s mind right before going to bed. He always has his notebook ready to grab on his desk, so he sketched this idea right away. He kept on working on this idea and designed different scenarios for this short clip. "To see this idea grow into an actual movie never happened before ´Lube-X´. Most of them feel like real genius material when I come up with them. But when I look them up the next day it´s usually crap.", Noah laughs.
Willy, the penis
To transport the dirty message in the movie it was in need of the right protagonist. All physical characteristics of character Willy were a result of the unusual topic of the project: The production of a lubricating cream advertisement that has a kid as the main character. Willy had to look like a huge penis and Noah also had the question in his mind how a penis with a brain and emotions would behave in such a situation. "First I drew a lot of versions during my character design which mostly contained organic, round shapes. I always liked the work of animated movie sketcher Glen Keane and first I decided to follow a Disney design approach. I was already modeling when I realized that my character, who had to be a human penis, could have even more character to him if he actually looked more like a penis. For this, I changed his proportions afterward, so his shape seemed much more unfamiliar, fleshy and less human.", Noah explains. After that, the artist drew thumbnails with different ideas for options of objects in which Willy could get stuck. He concentrated on those which still worked with a reduced background because the amount of time for producing everything was limited. Three scenarios made it into the final round and were drawn as storyboards, which included a hula-hoop, a water slide, and MRT device. Noah created the animatics based on these storyboards. "I would have loved to create more scenarios, but due to time limits that wasn´t possible. That´s why I decided to go for the funniest ones. When these objects even gave a respond – for example, if they break, expand or flag – it made even more sense."
Being funny… is not that easy
It was important to test in advance if the comedy of the situation would actually work. Noah´s comment: "It was still pretty easy in the beginning. When I pitched the idea people usually laughed and I knew it all came down to the right implementation. It got harder in the production phase. I´ve looked at my storyboards and my animations so many times that they didn´t force any reaction at all. For this reason, I showed them to my fellow students over and over again to see if those scenes forced the right reactions. But they knew all the gags as well fairly soon, so I just had to trust that my previous work was well done. On the day of the premiere I was really nervous, but luckily the audience reacted really well – That was a huge relieve." Noah happily explains.
One-man project with sponsorship
Up to this point, the animation student never realized a full movie from A to Z nor acted as a director. Up to this idea which appealed to him, so he decided to give it a go for his final project. Besides sound design and music he worked completely on his own, which brought both advantages and disadvantages: "First of all, I had 100% control over the entire project. So it was up to me if it will be good or bad. But this also included all technical aspects like rigging and simulation and I didn´t have much experience with it", so Noah said.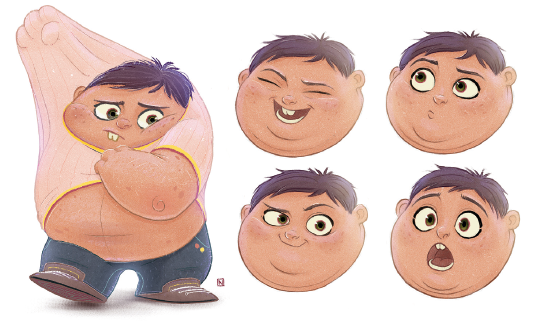 When the swizz TV channel SRF approved a sponsorship, he luckily gave these tasks to fellow students who were studying in the first or second year: "We had to create a sponsoring dossier with a script, storyboard, character design, concept art, thumbnails and provisional budget plan for our project, which we sent to SRF. There they chose a couple of projects for their sponsorship. I was pretty surprised, but also thankful when I heard that the swizz TV decided to sponsor a lubricating cream advertisement.", Noah remembers. Since his fellow students still attempted their regular classes Noah had to be quite flexible when it came to deadlines for certain tasks and he had to brief them as early as possible. "I´m deeply grateful for everyone who helped me with this project. They all did great work." Noah did part of the rigging himself, but because of his lack of experience, this ended with a few problems: "The result was probably the most painful rig with which I ever animated. Apart of the eyebrows, it was not possible to animate either half of the face individually and this really limited me later in the process."
For hardware, Noah used an iMac and the render farm from the Hochschule. Software used for 2D and 3D animation in "Lube-X" was TVPaint, ZBrush, and Maya. He also works with Maya today in his job as a character animator for Stories, a production company in Zurich (www.stories.ch). He added missing features with scripting: "In my opinion, a lot of these scripts need to be implemented directly in Maya because some of them are crucial for getting the best result." Compositing of all render passes, color grading and animating the 2D motion graphics happened in After Effects. Originally Noah wanted to work with Nuke, but due to the short time, he didn´t have enough to learn about a new software. All rendering was realized within Arnold. It all went well without further problems, except a few little render mistakes which were removed quite fast by the excellent support of the Hochschule. Noah didn´t follow a tight schedule but always showed up for deadlines given by the Hochschule every two months. "But now I´m way more organized than back then!", the artist laughs.
More of Willy?
Noah still sees a lot of potential in the Idea of "Lube-X". "I wish I had the idea two years later. Back then I wasn´t able to realize a movie on such a professional level as I wished. I often think about how I would do it completely different now. But on the other hand, I really learned a lot with this project because I already created three animated movies at the age of 21. Perhaps I might pick up Willy's story again sometime and will redesign it with a new storyline and a new team. But for now, I rather concentrate on new stories. If I ever was to create an advertisement again it will be for people who always get bored during TV breaks."
(Mirja Fürst)