The Post-Production & Animation Industry In and Around Munich
Which studios, schools and other important things can be found in the post-production industry of the Bavarian capital city and not so far away from it? And how has Munich become the important German VFX location that it is today? We give an overview.
If one looks at the structure of the media industry in Germany's four biggest cities in the north, east, west and south, one might get the impression that each region has intentionally "placed a bet" on one particular media field. For example, Cologne is much more active in the field of TV than other cities, plus it's home to the RTL Media Group and Brainpool, the production company founded by former TV host Stefan Raab. For its part, Stargate Studios, which was also founded in Cologne, makes it possible to produce international TV series and films in a cost efficient and time-saving manner with its virtual back-lot process: this technology allows directors to shoot in a large-scale daylight studio no matter what the weather is outside and without having to schlep the entire team and equipment to far-away locations. Hamburg, on the other hand, shows above-average activity in the field of advertising. For example, the city is home to Jung von Matt, the agency that has gained worldwide recognition for its unique and original advertising campaigns. Kolle Rebbe and achtung! also call Hamburg home. In contrast, the media landscape in Berlin is as colourful and creative as the city itself. The capital is home to Rise | Visual Effects Studios, a prominent international VFX and animation studio and the team behind many visual effects for major Hollywood blockbusters, including "Captain America" and "The Avengers", as well as for international TV series, such as "Borgia". The studio recently finished the work on "Richard the Stork", its first co-produced European feature animation film. In addition to Rise, Berlin also has numerous small and medium-sized post-production and animation companies, such as Celluloid, Lumatic and MovieBrats.
A Heart for films
Munich's heart, on the other hand, beats solely for cinema. For VFX and animation artists eager to work on feature films, the Bavarian capital has the most contacts and job options available to them here than in the rest of the country. Scanline, Trixter Arri are large-scale international post-production and animation vendors that have long since established their leading positions in the industry – and all of them were founded in Munich. Bavaria Studios, where such classics as "Das Boot" and "The Never-Ending Story" were shot, offer a production environment brimming with tradition and experience. And you don't have to be a cinema buff to get a sense of the passion for cinema in the city on the Isar River: indeed, Munich has a very high density of cinemas, including small and lovingly restored movie theatres, some of which have been around for more than one hundred years. Throughout the year, they host prominent film festivals, such as the Filmfest Munich, Fantasy Filmfest and the DOK.fest, and there is also something for everyone at smaller events such as the "Bunter Hund" Festival and the "Queer Film Festival". And no matter what time you go to the cinema here in Munich, almost every screening in this film-savvy city is packed. Film traditions are equally as sacred to Munich's cinema operators, and these traditions are studiously maintained with no attention paid to any sales dictates. For example, the Museum Lichtspiele has offered a late-show screening of the cult film classic "The Rocky Horror Picture Show" every night since 24 June 1977. A film on the programme schedule for almost 40 years – now that's something special.
Artist Education in Bavaria
As we all know, success requires a lot of blood, sweat and tears, which is why you need to do your fair share of learning and practicing before you enter the demanding and tech-heavy world of the post-production and animation industry. Many of today's best up-and-coming artists continue to educate themselves via independent study and learning-by-doing, but that doesn't mean a sound education isn't also a good idea.
HFF Munich
The Hochschule für Film und Fernsehen in Munich is the leading film university in Bavaria and boasts a number of successful graduates and a long tradition stretching back to 1966. Among its former students are the film producers Bernd Eichinger and Nico Hofmann, as well as directors Wim Wenders, Doris Dörrie, Uli Edel, Roland Emmerich, Katja von Garnier and Sönke Wortmann. The HFF is well-known throughout the world of cinema first and foremost for its excellent storytelling and successful documentaries. Interestingly, VFX and animation were hardly on the study programme until about five years ago. In this regard, a lot has happened at the university since then: "Pieps und der Papierflieger", directed by Christoph Englert with support from Trixter and VFX supervisor Jan Stoltz, was the first 3D animation film to be made there, and a professorship in VFX has now been integrated into the programme. Christoffer Kempel has taught visual effects in the field of "digital post-production" over the past several years, and it now forms a major component of the training. Plus, since March 2015, Trixter founder Michael Coldewey has been working as a professor at the HFF, which means that students can now officially turn to a person with direct experience and contacts to the industry for assistance and advice. In other words, there will be an even stronger emphasis on VFX in HFF productions in the future; but that won't take away from the school's continuing focus on storytelling, as shown by short film "Willa". In order to shoot this short story by Stephen King, director Helena Hufnagel and her team created an elaborate freeze sequence in a train compartment.
TH Nürnberg
The Technische Hochschule Nürnberg Georg Simon Ohm lies two hours by train from Munich and is yet another Bavarian educational institution designed to prepare students for work in post-production and animation. Professor Jürgen Schopper, who is in charge of "Film & Animation" in the field of "Design", worked in the 1990s as a computer animation artist on Roland Emmerich's "Independence Day" and today works as a VFX creative director at Arri, where he was recently responsible for projects such as "Smaragdgrün" and "Deckname Luna".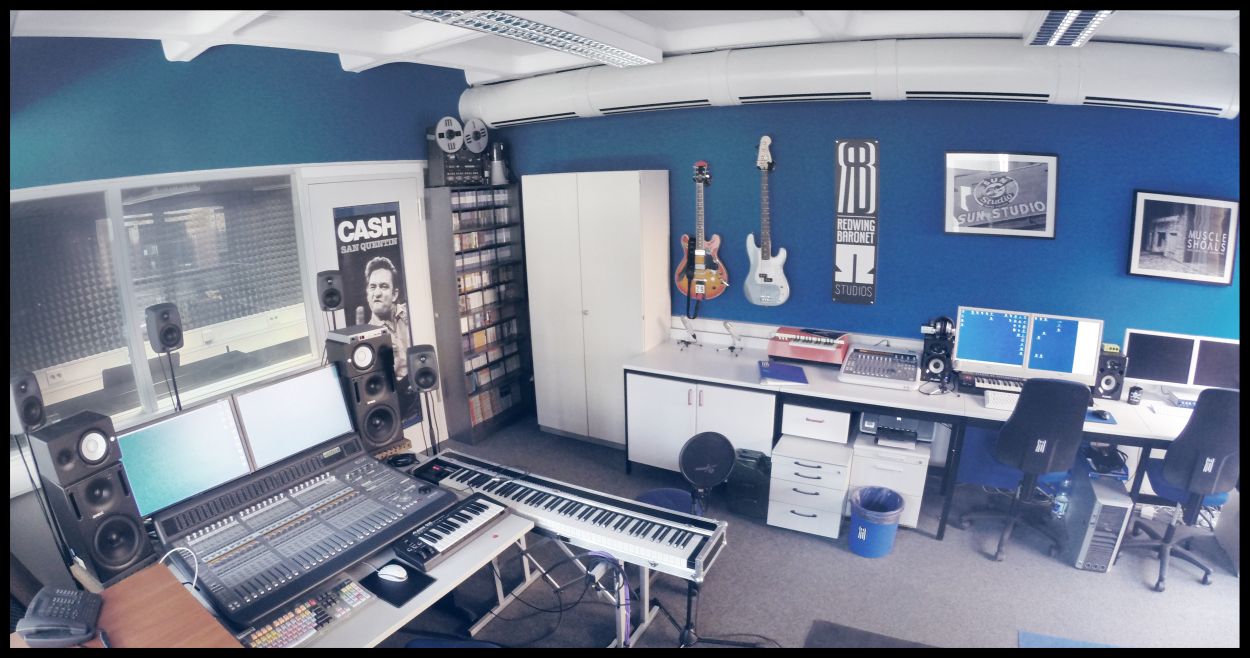 Animation Studios & Post-Production Companies
Arri
Founded in 1917, Arri is truly one of the grandfathers of the industry. The company still has its headquarters in Munich, but has since branched out with offices in Berlin, Cologne, Ludwigsburg, Frankfurt and Halle. In early March 2016, Arri opened a new location in the former sound studio of the Bavaria Complex, calling it Arri@BavariaFilm. At this location, the focus is first and foremost on sound mixing and grading: Studio A enables Dolby Atmos mixing, and Studio C is home to a new grading suite with a built-in Dolby Vision laser projector that combines 4K, HFR functionality and HDR playback. With its different departments, Arri Media Services covers all areas of film and sound editing; however, the company made its name primarily thanks to Arri cameras. The Arriflex 35, which was presented to the public for the first time in 1937, was the first industrially manufactured SLR in the world. Since then, the ongoing development of innovations over the years was rewarded with roughly 20 tech Oscars.
CinePostproduction
CinePostproduction also has 100 years under its belt. After its film lab had to be closed due to the complete digitisation of the industry, the post-production company filed for bankruptcy three years ago. At the beginning of 2015, however, a buyer was found in MTI Teleport Munich GmbH based in Unterföhring near Munich; after that, Cinepost got back in the game with new momentum. Although the company retained its brand name, it is now completely reorganised and functions not as a subsidiary but much more as an independent company with locations in Munich and Berlin. In addition to the post-production of feature films and TV productions, the company's specialities include the digitisation and restoration of film material. For example, Bernd Eichinger's 1984 film "The NeverEnding Story" and the 1936 German-language UFA cinema classic "Die Glückskinder" were digitised and given a fresh new look by CinePost.
Scanline
Although it's not quite as old as Arri and CinePostproduction, Scanline has been riding the CG wave for more than twenty-five years already. The VFX company is well-known internationally mostly for its water simulations, which are carried out using Flowline, a software specially developed for the purpose. The technology received a Tech Oscar in 2008 and was used, for example, to depict bodies of water in feature films such as "Hereafter", "Point Break", "Exodus" and "San Andreas". And one thing you might not know: Flowline is also capable of creating volumetric simulations such as fire, smoke, dust and larger dirt particles. Examples of their work can be found in the train crash in "Super 8" and in elaborate shots with multiple simulations in "Iron Man 3" and "Batman v Superman: Dawn of Justice". After Scanline started working on a regular list of Hollywood blockbusters, the company decided to expand to Vancouver and Los Angeles so as to be closer to the USA and all the production companies located there.
Trixter
Trixter is the "youngster" among the fantastic four Munich-based post-production and animation companies. The company was founded in 1998 by Simone Kraus and Michael Coldewey, originally as an animation studio solely for traditional cartoon and computer animation. However, the company's portfolio quickly developed to include VFX for commercials and feature films. Their breakthrough came in 2004 with the Sat.1 film "The Ghost of Canterville", in which Trixter integrated an animated character into real footage for the first time. Trixter established itself as a leading VFX studio at the latest in 2005, when the team created roughly 25 minutes of film material with a CG version of German film star Michael "Bully" Herbig as the castle ghost. And the company has remained faithful to animation films to this day, most recently for the German comedian Otto's film "Der 7bte Zwerg", which was Trickster's largest project to date. Trixter-VFX-Supervisor Dominik Zimmerle is by the way one of the jury members in 2017.
New in Munich: Rise
This year an additional big name in the VFX industry came to the Bavarian capital with a location: Rise | Visual Effects Studios. Dominik Trimborn, the former head of the VFX department at Arri, is the managing director and supervisor of the new location in Munich. The team will focus on visual effects for TV and film projects. The Rise team will start with the work on "Berlin Babylon" by Tom Tykwer and the German film production "Jim Knopf".
Other Leading Studios in Munich
Some examples of other Munich-based studios well known all over the world are 3DExite (originally called Realtime Technology AG before being taken over by the French software company Dassault Systemes), a studio that creates high-end 3D visualizations in real time, and Velvet Mediendesign, which is located right next to Trixter in Munich's Maxvorstadt district and which specializes in high-end commercials for the national and international market. For its part, the company Big Hug FX was created to handle the work on the elaborate German fantasy film "Mara und der Feuerbringer". The team's current portfolio includes feature film projects such as "Mrs. Bodyguard" and "Creed" starring Sylvester Stallone.
Bully's Most Important Role
And while we're on the subject of Michael "Bully" Herbig – the German comedian, movie star and now official gummy bears spokesman – we should mention what an important role he played in the development of the VFX and animation industry in Munich in the 2000s. After the blockbuster success of his film "Schuh des Manitu", which originated from a series of sketches in the TV comedy show "Bullyparade" and went on to attract audiences of almost 12 million and roughly €65 million in sales, Bully used his new-found financial security to make "(T)raumschiff Suprise". This feature film had a comparatively high number of VFX scenes for a German film of that era, and it too was a huge success, attracting roughly 9 million viewers and becoming one the top three most successful German films since they started measuring audiences in 1980.
In 2006, inspired by the success of these two films, Bully took on the role of the first ever 3D, full-CG figure in a German feature film and lent his face and voice to the castle ghost "Hui Buh". Yet another offspring of the "Bullyparade" sketch comedy show provided the basis for the director's first 3D animation film: "Lissi und der wilde Kaiser" was made with a production budget of €12 million and the help of roughly 50 Scanline animators and entered cinemas in 2007. Although a number of critics pointed out that the film was not entirely on the level of other major players on the international animation scene, Bully's films provided much-needed impulses for the blossoming VFX and animation industry in Munich and for the German film-production landscape in general.
In 2007, Bully received an honorary animago AWARD for his accomplishments. At that year's animago held in the Konzerthaus Karlsruhe, the filmmaker thanked the audience via video message and the trophy was accepted on his behalf by Scanline Managing Director Thomas Zauner. This year, after the flop of his 2013 guardian-angel comedy "Buddy", Michael Herbig has been at it again as a director and is getting ready to celebrate the 20th anniversary of his richest source of inspiration with "Bullyparade: The Film", which is scheduled to enter cinemas in the summer of 2017.
We are very proud to note that the animago is even older than that cult flick "Bullyparade", because this year, we already have the 21th edition of the animago AWARD & CONFERENCE!
(Mirja Fürst)